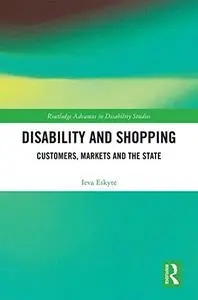 Disability and Shopping: Customers, Markets and the State (Routledge Advances in Disability Studies) by Ieva Eskyte
2019 | ISBN: 1138105775, 0367663007 | English | 272 pages | PDF | 3 MB
Disability and Shopping:Customers, Markets and the State provides an examination of the diverse experiences and perspectives of disabled customers, industry and civil society. It discusses how the interaction between the three stakeholders should be shaped at aiming to decrease inequality and marginalisation.
Shopping is a part of everyday modern life and yet businesses struggle to adequately meet the needs of 80 million disabled customers in the European Union single market. While there has been extensive research into how individuals engage in customer roles and experience, and how businesses and policies both shape and respond to these, little is known of the same dynamics and practices regarding people with impairments. This book addresses this need by revealing the perspectives, interactions and experiences of disabled customers and their interaction with policy and business.
It will be required reading for all scholars and students of disability studies, sociology, marketing and customer relations.