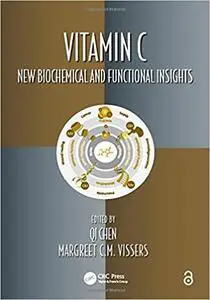 Qi Chen, "Vitamin C: New Biochemical and Functional Insights "
English | ISBN: 1138337994 | 2020 | 268 pages | PDF | 5 MB
Vitamin C holds a unique place in scientific and cultural history. In this book, a group of leading scientific researchers describe new insights into the myriad ways vitamin C is employed during normal physiological functioning. In addition, the text provides an extensive overview of the following: the rationale for utilizing vitamin C in the clinic, updates on recent uses of vitamin C in cancer treatment through high-dose intravenous therapies, the role vitamin C plays in the treatment of sepsis and infectious disease, management of the ways vitamin C can improve stem cell differentiation, as well as vitamin C use in other important health situations.
Features
Includes chapters from a team of leading international scholars
Reviews the history and recent research on the functions, benefits, and uses of vitamin C
Focuses special attention on the way vitamin C can be used in the treatment of cancers
Discusses how vitamin C can be employed against infectious disease