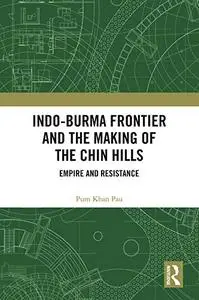 Indo-Burma Frontier and the Making of the Chin Hills: Empire and Resistance by Pum Khan Pau
2019 | ISBN: 1138384607 | English | 262 pages | PDF | 4 MB
This book examines the British colonial expansion in the so-called unadministered hill tracts of the Indo-Burma frontier and the change of colonial policy from non-intervention to intervention. The book begins with the end of the First Anglo-Burmese War (1824–26), which resulted in the British annexation of the North-Eastern Frontier of Bengal and the extension of its sway over the Arakan and Manipur frontiers, and closes with the separation of Burma from India in 1937. The volume documents the resistance of the indigenous hill peoples to colonial penetration; administrative policies such as disarmament; subjugation of the local chiefs under a colonial legal framework and its impact; standardisation of 'Chin' as an ethnic category for the fragmented tribes and sub-tribes; and the creation and consolidation of the Chin Hills District as a political entity to provide an extensive account of British relations with the indigenous Chin/Zo community from 1824 to 1935. By situating these within the larger context of British imperial policy, the book makes a critical analysis of the British approach towards the Indo-Burma frontier.
With its coverage of key archival sources and literature, this book will interest scholars and researchers in modern Indian history, military history, colonial history, British history, South Asian history and Southeast Asian history.