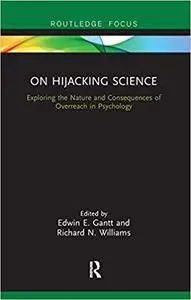 On Hijacking Science: Exploring the Nature and Consequences of Overreach in Psychology by Edwin E. Gantt and Richard N. Williams
English | Apr 12, 2018 | ISBN: 1138478814, 036785614X | 144 pages | PDF | 1 MB
This book examines the origins, presence, and implications of scientistic thinking in psychology. Scientism embodies the claim that only knowledge attained by means of natural scientific methods counts as valid and valuable. This perspective increasingly dominates thinking and practice in psychology and is seldom acknowledged as anything other than standard scientific practice. This book seeks to make this intellectual movement explicit and to detail the very real limits in both role and reach of science in psychology. The critical chapters in this volume present an alternative perspective to the scholarly mainstreams of the discipline and will be of value to scholars and students interested in the scientific status and the philosophical bases of psychology as a discipline.
My nickname -
interes