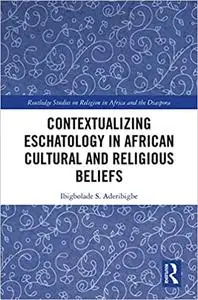 Contextualizing Eschatology in African Cultural and Religious Beliefs by Ibigbolade S. Aderibigbe
English | Sep 30, 2019 | ISBN: 1138491438, 1032089040 | 132 pages | PDF | 3 MB
Contextualizing Eschatology in African Cultural and Religious Beliefs addresses the African consciousness and nuances of eschatological beliefs as part and parcel of the holistic African Indigenous worldviews within the context of the people's traditional heritage.
The concept of eschatology is usually explained from the perspective of "endtimes" in relation to either the human individual or the cosmos. Within these contexts, the primary interests, particularly with regard to human eschatology, have centred on the questions of death, afterlife, immortality, destiny, judgment, reward and punishment, and the final destination or eternal "home" of humans. This book explores the characteristic nature, the modes, the process as well as the dynamics associated with the various features culminating the functional expression of the "reality" of eschatological beliefs demonstrated in varied but fundamentally the same subject matter of practices among different African ethnic groups. It also discusses the influences of other religious traditions, particularly Christianity and Islam, on contemporary African eschatological thoughts and their attendant consequences.
This book will be of interest to students and scholars of African studies, eschatology, religious studies, and the philosophy of religion.
My nickname -
interes