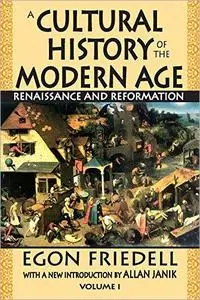 A Cultural History of the Modern Age: Volume 1, Renaissance and Reformation (Social Science Classics Series) by Egon Friedell
English | September 20, 2017 | ISBN: 1138518131, 1412807492 | PDF | 385 pages | 21 MB
Historian, philosopher, critic, playwright, journalist, and actor, Egon Friedell was a key figure in the extraordinary flowering of Viennese culture between the two world wars. His masterpiece, A Cultural History of the Modern Age, demonstrates the intellectual universality that Friedell saw as guarantor of the continuity and regeneration of European civilization.
Following a brilliant opening essay on cultural history and why it should be studied, the first volume begins with an analysis of the transformation of the Medieval mind as it evolved from the Black Death to the Thirty Years War. The emphasis is on the spiritual and cultural vortex of civilization, but Friedell never forgets the European roots in pestilence, death, and superstition that animate a contrary drive toward reason, refinement, intellectual curiosity, and scientific knowledge. While these values reached their apogee during the Renaissance, Friedell shows that each cultural victory is precarious, and Europe was always in danger of slipping back into barbarism. Friedell's historical vision embraces the whole of Western culture and its development. It is a consistent probing for the divine in the world's course and is, therefore, theology; it is research into the basic forces of the human soul and is, therefore, psychology; it is the most illuminating presentation of the forms of state and society and, therefore, is politics; the most varied collection of all art-creations and is, therefore, aesthetics.
Thomas Mann regarded Friedell as one of the great stylists in the German language. Like the works of the great novelist, A Cultural History of the Modern Age offers a dramatic history of the last six centuries, showing the driving forces of each age. The new introduction provides a fascinating biographical sketch of Friedell and his cultural milieu and analyzes his place in intellectual history.