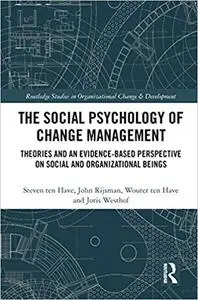 The Social Psychology of Change Management:
Theories and an Evidence-Based Perspective on Social and Organizational Beings
(Routledge Studies in Organizational Change & Development)
by Steven ten Have
English | 2019 | ISBN: 1138552089 | 318 Pages | EPUB | 2 MB
Social psychology is essential for the effectiveness and development of the field of change management. It is necessary to understand people in change processes. Social psychology also teaches us that meaning is key during change and intervention. Social psychology makes change management comprehensible to people and allows them to consider their actions in groups and the organization on their merits. They may seem obvious and self-evident, but practice and science, as well as the popular change management literature, show that it is not.