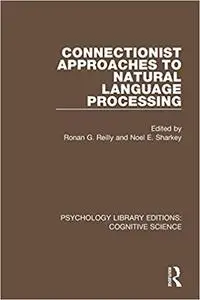 Noel Sharkey, "Psychology Library Editions: Cognitive Science: Connectionist Approaches to Natural Language Processing "
English | ISBN: 1138640077 | 2018 | 488 pages | PDF | 18 MB
Originally published in 1992, when connectionist natural language processing (CNLP) was a new and burgeoning research area, this book represented a timely assessment of the state of the art in the field. It includes contributions from some of the best known researchers in CNLP and covers a wide range of topics.
The book comprises four main sections dealing with connectionist approaches to semantics, syntax, the debate on representational adequacy, and connectionist models of psycholinguistic processes. The semantics and syntax sections deal with a variety of approaches to issues in these traditional linguistic domains, covering the spectrum from pure connectionist approaches to hybrid models employing a mixture of connectionist and classical AI techniques.
The debate on the fundamental suitability of connectionist architectures for dealing with natural language processing is the focus of the section on representational adequacy. The chapters in this section represent a range of positions on the issue, from the view that connectionist models are intrinsically unsuitable for all but the associationistic aspects of natural language, to the other extreme which holds that the classical conception of representation can be dispensed with altogether.
The final section of the book focuses on the application of connectionist models to the study of psycholinguistic processes. This section is perhaps the most varied, covering topics from speech perception and speech production, to attentional deficits in reading. An introduction is provided at the beginning of each section which highlights the main issues relating to the section topic and puts the constituent chapters into a wider context.