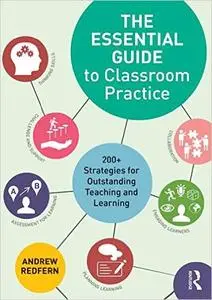 The Essential Guide to Classroom Practice: 200+ strategies for outstanding teaching and learning by Andrew Redfern
English | 2015 | ISBN-10: 1138800287, 1138800295 | 184 pages | PDF | 4 MB
The Essential Guide to Classroom Practice has been written with two questions in mind. These are the questions that are most important to all practitioners who seek to improve the quality of learning in their classrooms – what strategies work? and, how do we implement them?
Covering all the areas that are key to effective teaching and learning, this text consists of over 200 practical strategies that secondary teachers can adopt and apply within their classroom. These strategies range from simple tools to improve the quality of questioning, to principles that can shape the whole approach to learning. Key topics covered include:
The five-part lesson plan
Developing thinking skills
How to engage learners
Encouraging collaborative learning
Challenging and supporting
Feedback and assessment
A key feature of this book is the handy collection of 'Top 10s' that appear in each chapter, such as 10 ways to use data in the classroom and 10 ways to streamline your marking. The book clearly explains the benefit of each approach described and offers additional guidance on using websites and digital tools effectively in the classroom. Packed full of ideas, the book offers a one stop shop for busy teachers.
My nickname -
interes