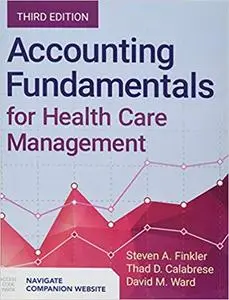 Steven A. Finkler, "Accounting Fundamentals for Health Care Management Ed 3"
English | ISBN: 1284124932 | 2018 | 228 pages | PDF | 4 MB
Accounting Fundamentals for Health Care Management is ideal for an introductory course in financial accounting in both undergraduate and graduate programs. With a focus on basic accounting in health care management, this essential book contains the vocabulary of and an introduction to the tools and concepts employed by finance officers. Students will learn how to assess financial information, ask the appropriate questions, and understand the jargon-laden answers.
The Third Edition reflects the changes since the enactment of health care reform. It also brings the book in compliance with recent and near-term changes to accounting standards by the Financial Accounting Standards Board including how bad debts are reported, the presentation of cash flow statements, and the presentation of net assets on the balance sheet.
All Excel tables and screenshots have been updated to more recent versions of the program to make it more accessible to readers. All the problems, solutions, and cases have been updated and are compliant with current FASB standards.