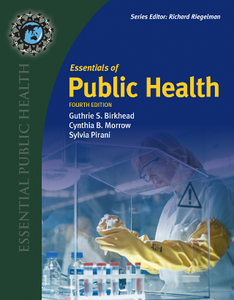 Essentials of Public Health, Fourth Edition
by Guthrie S. Birkhead, Cynthia B. Morrow
English | 2021 | ISBN: 1284173259 | 371 Pages | ePUB | 28 MB
As one of the foundational texts in the Essential Public Health series, Essentials of Public Health, Fourth Edition – formerly authored by Turnock – is an excellent introduction to the field of public health, covering public health practice, government public health, and careers in public health. After defining Public Health and looking at the current U.S. public health system and practice, the book looks at population health measurement, policy development, and collaboration between the public health and the health system. Final chapters explore career opportunities in public health administration, epidemiology, public health nursing, and health education as well as emerging ones such as health information technologists, emergency managers, and more. Helpful learning tools such as chapter exercises and discussion questions, making it an ideal text to prepare your students for the profession of public health.
If you want to support my blog, then you can buy a premium account through any of my files (i.e. on the download page of my book). In this case, I get a percent of sale and can continue to delight you with new books!