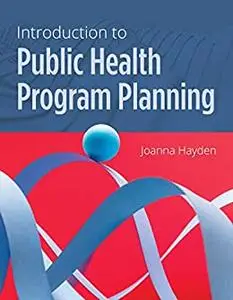 Introduction to Public Health Program Planning
by Joanna Hayden;
English | 2022 | ISBN: 1284175189 | 350 pages | True EPUB | 14.91 MB
Written to provide students with the essential program planning skills that they'll need in public health practice, Introduction to Public Health Program Planning offers an accessible and engaging approach to the program planning process. Divided into 3 parts, Introduction to Public Health Program Planning begins with an introduction to the basics of planning, health determinants, and behaviors. It then offers in-depth discussion of the generic planning phases - from assessing needs and planning to implementing and evaluation. The third section explores the four most commonly used planning frameworks, along with three additional planning frameworks that address specific health issues. A final chapter offers guidance on choosing a planning framework. Key Features: - Chapter-opening analogies to real-life situations help demystify chapter content and ease student understanding to chapter material. - Commonly used planning frameworks, including PRECEDE-PROCEED, MAPP, MAP-IT, and Intervention Mapping are discussed in detail in separate chapters that also include step-by-step instruction for their use. - End-of chapter activities that link to journal articles demonstrate how the material covered is applied in a practice setting. - Figures and tables provide visual examples that clarify and expand upon chapter material. - Navigate eBook Access (included with each new print text) enables students to read their digital textbook online or offline, on computers, tablets, and mobile devices.