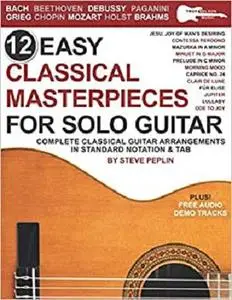 12 Easy Classical Masterpieces for Solo Guitar: Complete Classical Guitar Arrangements in Standard Notation & Tab by Steve Peplin
English | April 15, 2021 | ISBN: N/A | ASIN: B092PJ99F7 | 58 pages | PDF | 4.91 Mb
Learn 12 easy classical masterpieces for solo guitar! All songs are arranged in standard notation and tab! Plus, chord symbols and streamlined fingerings are used so songs can be learned more easily but still sound like masterpieces!
All songs are presented in standard notation and the easy-to-follow and popular tab format so you'll be able to quickly teach yourself a dozen timeless classical masterpieces by composers like Bach, Beethoven, Mozart, and Chopin, among others.
From master guitarist and educator Steve Peplin, this is the ultimate guitar songbook for learning classical masterpieces.
Each song is arranged with the beginner and intermediate guitarists in mind. Yet, even seasoned six-string vets will find the songs fun to play!
BONUS
Includes customer support! Questions during practice? Email us from our website and we will happily help you.
You won't find this benefit anywhere else!
This easy-to-follow classical guitar songbook provides guitarists with
easy
arrangements that include
standard notation,tab,
and
chord symbols
.
The Song List:
Caprice No. 24 (Paganini)
Clair de Lune (Debussy)
Contessa Perdono (Mozart)
Fur Elise (Beethoven)
Jesu, Joy of Man's Desiring (Bach)
Jupiter (Holst)
Lullaby (Brahms)
Mazurka in A Minor (Chopin)
Minuet in G Major (Bach)
Morning Mood (Grieg)
Ode to Joy (Beethoven)
Prelude in C Minor (Chopin)
REMEMBER Free access to instant audio downloads from the Troy Nelson Music website included with this classical music book.
This guitar songbook includes popular classical repertoire in sheet music form.

From master guitarist and university educator Steve Peplin12 Easy Classical Masterpieces for Solo Guitar is arranged how Steve would want to learn classical repertoire. Steve has taught jazz and classical guitar at every level, from private lessons to university-level masterclasses.



Feel Free to contact me for book requests, informations or feedbacks.
Without You And Your Support We Can't Continue
Thanks For Buying Premium From My Links For Support