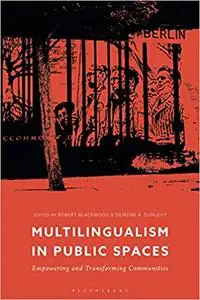 Robert Blackwood, "Multilingualism in Public Spaces: Empowering and Transforming Communities"
English | ISBN: 1350186597 | 2021 | 268 pages | PDF | 132 MB
Advocates of multilingualism are always seeking new ways to articulate the advantages inherent in living out life in more than one language. This volume brings together researchers from across Europe to explore sociolinguistic perspectives on multilingualism, with specific emphasis on identity, diversity, and social cohesion, as they focus explicitly on the potential of this phenomenon to empower individuals, groups, and communities.
Positioned around the idea of empowerment, this book explores the potential of multilingualism to overcome divisions and build social cohesion. In particular, chapters discuss how multilingualism can help the individual to become critically conscious and to develop an in-depth understanding of the world, while also benefiting society as whole. Understanding 'public space' in broad terms, including domains such as education, online, and the linguistic landscape, this volume explores how multilingualism can empower people from a range of perspectives, including memorialisation, onomastics, direct action, linguistic rights, migration, and educational play.
Read more