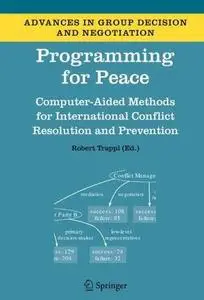 Programming for Peace: Computer-Aided Methods for International Conflict Resolution and Prevention (Advances in Group Decision and Negotiation) by Robert Trappl (Editor)
Publisher: Springer; 1 edition (February 10, 2006) | ISBN-10: 1402043775 | PDF | 6,9 Mb | 463 pages
Sadly enough, war, conflicts and terrorism appear to stay with us in the 21st century. But what is our outlook on new methods for preventing and ending them? Present-day hard- and software enables the development of large crisis, conflict, and conflict management databases with many variables, sometimes with automated updates, statistical analyses of a high complexity, elaborate simulation models, and even interactive uses of these databases.
In this book, these methods are presented, further developed, and applied in relation to the main issue: the resolution and prevention of intra- and international conflicts. Conflicts are a worldwide phenomenon. Therefore, internationally leading researchers from the USA, Austria, Canada, Germany, New Zealand and Switzerland have contributed.