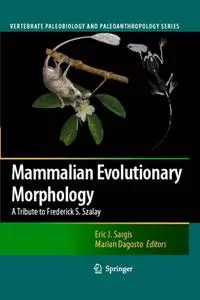 Mammalian Evolutionary Morphology: A Tribute to Frederick S. Szalay by Eric J. Sargis
English | PDF | 2008 | 453 Pages | ISBN : 1402069960 | 12.9 MB
This volume acknowledges and celebrates the contributions of Dr. Frederick S. Szalay to the field of Mammalian Evolutionary Morphology. Professor Szalay has published about 200 articles, four monographs, and six books on this subject. Throughout his career Professor Szalay has been a strong advocate for biologically and evolutionarily meaningful character analysis.
In his view, this can be accomplished only through an integrated strategy of functional, adaptational, and historical analysis. Dr. Szalay worked on several different mammalian groups during his career, and the contributions to this volume reflect his broad perspective. Chapters focus on Primates, a group to which Professor Szalay dedicated much of his career. However, other mammalian groups on which he conducted a significant amount of research, such as marsupials and xenarthrans, are also covered in the volume.
This book will be of interest to professionals and graduate students in a wide variety of related fields, including functional morphology, systematics, vertebrate paleontology, mammalogy, primatology, biological anthropology, and evolutionary biology.
i will be very grateful when you

support

me and buy Or Renew Your Premium from my Blog links
i appreciate your

support

Too much as it will help me to post more and moreWithout You And Your

Support

We Can't Continue
Thanks For Buying Premium From My Links For

Support