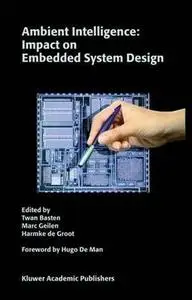 Ambient Intelligence: Impact on Embedded System Design by Twan Basten (Editor), Marc Geilen (Editor), Harmke De Groot (Editor) ;
Publisher: Springer; 1 edition (January 1, 2001) | ISBN-10: 1402076681 | PDF | 11,2 Mb | 360 pages
The emerging Ambient Intelligence vision has the potential to fundamentally change our world. This volume is a preview into the next era of computing. It investigates the impact of Ambient Intelligence on embedded system design. Combining visionary contributions with papers on recent developments, it brings to light the challenges in system design towards fulfilling the Ambient Intelligence promise. Topics covered range from processor architectures and embedded software to cognitive robotics and sensor networks, and from quality-of-service and energy-efficient design to security and fault tolerance.