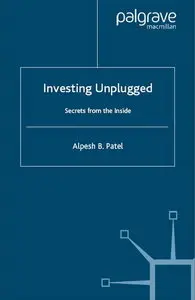 Alpesh B. Patel, "Investing Unplugged: Secrets from the Inside"
Publisher: Palgrave Macmillan | 2005-06-11 | 225 Pages | ISBN: 1403946205 | PDF | 1 MB
Most investors get their financial information from the media, but this is not always the best way to unlock the secrets that lead to real financial success. This book is a treasure trove of information on the inner workings of the finance establishment by a Bloomberg insider. What do the top CEOs know? What information do brokers keep from their clients? What are analysts on TV not telling you? This is a must-have for both professional and private investors.
Please appreciate my work, download from my references!!!