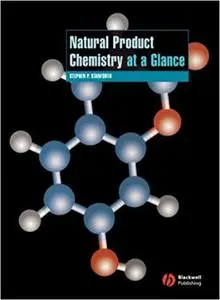 Stephen P. Stanforth, "Natural Product Chemistry at a Glance"
English | 2006 | pages: 147 | ISBN: 1405145625 | PDF | 23,8 mb
Natural products have been a fertile area of chemical investigation for many years, driving the development of both analytical chemistry and of new synthetic reactions and methodologies. Many of the most important synthetic reactions in chemistry have been developed in the quest to characterise and synthesise these materials.
Natural Product Chemistry at a Glance provides a concise overview of the main principles and reactions of natural product chemistry, for students studying chemistry and related courses at undergraduate level. Based on the highly successful and student friendly "at a glance" approach, the material developed in this book has been chosen to reinforce the principles of elementary organic reactions and to highlight the similarity between many organic reactions and biological processes. It will also serve as an initial platform for more advanced excursions into the origin of natural products.
Students using Natural Product Chemistry at a Glance will find they have a resource with which they can quickly, economically and confidently acquire, regularly review and revise the basic facts that underpin the biosynthesis and chemistry of natural products.
My Link