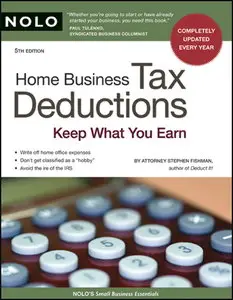 Stephen Fishman, "Home Business Tax Deductions: Keep What You Earn"
Publisher: NOLO | ISBN: 1413309070 | edition 2008 | PDF | 533 pages | 3,14 mb
Keep your hard-earned money in your home business!
Completely updated for 2008 returns
Tax deductions are essential to any business, but even more so when your office is also your home. Don't spend thousands on an accountant –turn to Home Business Tax Deductions and do it yourself!
Home Business Tax Deductions will help you write off:
your home office start-up and operating expenses vehicles and travel entertainment and meals health insurance and medical bills inventory equipment The 5th edition is completely updated with all the latest tax information, eligibility requirements and deductions for 2008 returns. Home Business Tax Deductions also covers how to avoid being classified as a hobby business, steer clear of home-business tax scams, stay out of trouble with the IRS and take special deductions if your business loses money.Summary: perfectionRating: 5This seller sent this to me very fast and it was in the speciied condition if not better.Summary: it might be worth its weight in gold for you.Rating: 5The winding road of business has many pitfalls. This is a must have guide that will help keep you safe. CSSummary: Fantastic resourceRating: 5If you're a small business person, or thinking about becoming one, this is a very good reference. It provides a good perspective on all the major area of tax concern that most small businesses will be involved with and does so with good explanations and discussions. I've done my fair share of accounting over the last few years and still found this to be a very worthwile resources. Definitely recommended.Summary: Will pay for itself almost immediately…Rating: 5As I have a small side business related to my writing activities, I have to pay attention to all those tax-related matters. I found this book of interest at the library… Home Business Tax Deductions: Keep What You Earn by Stephen Fishman. It's probably one of the best tax guides I've seen, in that it's readable, understandable, and practical. Contents: Home Business Tax Deduction Basics Are You Really In Business? Avoiding the Start-Up Tax Trap Home Business Operating Expenses Deducting Long-Term Assets The Home Office Deduction Meal and Entertainment Expenses Car and Local Travel Expenses Business Travel Inventory Hiring Workers Medical Expenses Retirement Deductions Additional Home Business Deductions Record Keeping and Accounting Claiming Tax Deductions for Prior Years Staying Out of Trouble With the IRS Help Beyond This Book Index I've waded through tax books that are extremely comprehensive, as well as *huge*. The problem there is that you're never quite sure if you've found everything you should be looking for. Fishman condenses those "phone book" guides into something around 450 pages that covers the most important aspects of the tax code that affect the home/small business owner. Instead of listing endless regulations and nuances, he gives you the information in a conversation style that doesn't sacrifice detail for readability. That's good, as you don't want to end up in front of a tax auditor ill-prepared for the questions they may ask. In addition to the coverage of the laws and guidelines, he also includes a number of realistic examples so you can see how that aspect of tax law would apply to someone who might be in your same situation. The combination of information and application make this a valuable guide that can easily save you the purchase cost of the book come April 15th. I personally found the information reassuring, as I was able to confirm that the taxes I've done in the past have been accurate. If I had never had to do a Schedule C before, I'd consider this a must-read. Definitely worth buying…Summary: a complete productRating: 5A very detailed and easy to read complete book. This book contains every single thing you need to know about tax deductibles items for the Home business, plus countless tips and advises on what to do and mistakes to avoid. The format is as all NOLO type of books, extremely easy on the eyes and to follow.
Download FREE

filesonic.com





turbobit.net





wupload.com



To thank me use my links, please!





My AH blog!



!!! No mirrors please !!!