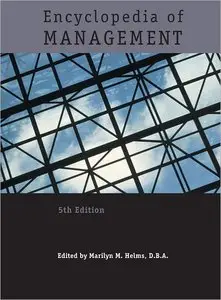 Encyclopedia of Management by Jenai Mynatt
English | ISBN: 1414406916 | edition 2009 | PDF | 1094 pages | 27 mb
The Diversification strategy and Marketing concept and philosophy essays serve well as examples of the encyclopedia's writing style and focus. The former essay is relatively long, running to eight columns of tightly packed text.
It begins with an explanation of diversification in the context of growth strategies and works its way through concentric diversification, conglomerate diversification, diversification strategies, and vertical versus horizontal diversification.
Main sections and subsections are separated by eye-friendly areas of white space. The writing style is straightforward and should present no difficulty to beginners or casual browsers. The marketing essay is of the shorter variety and provides more of a summary than an in-depth treatment of its subject. The inclusion of anecdotal examples makes it a pleasure to read. All entries conclude with further reading lists, and the text is complemented by tables, graphs, and other figures.