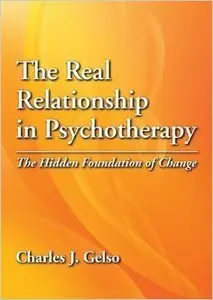 Charles J. Gelso, "The Real Relationship in Psychotherapy: The Hidden Foundation of Change"
English | ISBN: 1433808676 | 2011 | 184 pages | PDF | 0,6 MB
The concept of the real or personal relationship between client and therapist has existed since the earliest days of psychotherapy. Yet the real relationship-with its twin components of genuineness (the intent to avoid deception, including self-deception) and realism (perceiving or experiencing the other in ways that befit the other) has often been misunderstood or ignored. Instead, psychotherapy research has focused largely on the concepts of the working alliance and of transference and counter-transference. In this engaging book, Charles Gelso argues the case for the relevance of the real relationship to successful therapeutic outcomes. He skillfully traces the development of the concept from its roots in early psychoanalytic thought and documents its current utility in numerous modern approaches to therapy including humanistic, relational and cognitive-behavioral. The author examines the real relationship using a wide variety of examples drawn from current research as well as his own extensive clinical experiences. Written in clear, accessible prose, this book will speak to practicing psychotherapists and therapist-trainees as well as researchers and theorists of all persuasions. Given the current interest in the role of the therapeutic relationship in successful client outcomes, this book is both thought-provoking and timely.