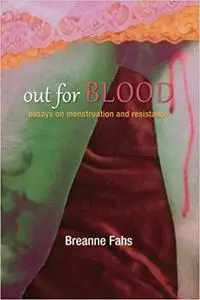 Out for Blood: Essays on Menstruation and Resistance (SUNY Series, Praxis: Theory in Action) by Breanne Fahs
English | 2016 | ISBN: 1438462131, 1438462123 | 148 pages | PDF | 1,2 MB
Frames menstruation as a site of resistance, defiance, and shamelessness, showcasing the work of those who fight back against shame and silence.
Winner of the 2017 Distinguished Publication Award presented by the Association for Women in Psychology
Transporting the reader to worlds in which Komodo dragons prey on menstruating women, artists prowl the streets of Spain in blood-stained pants, and the myths of women bleeding in synchrony with each other are drawn and redrawn, these eleven essays on menstruation and resistance evoke thought-provoking tensions between silence and confrontation, shame and rebellion, and compliance and disobedience. Fusing together gender and feminist theory, critical body studies, political activism, and menstrual anarchy, Breanne Fahs illuminates the troubling omissions of menstrual coming-of-age narratives in the museum, the outdated terminology of "feminine hygiene," and the moral panics about blood that erupts from in and outside of our bathrooms, classrooms, and cell phones. Borrowing from a multitude of voices―single moms, trans teenagers, zine makers, menstrual artists, college students, tour guides, French philosophers, and culture jammers―Fahs forcefully argues for a new culture of menstruation, one where the joys, rhythms, and controversies of menstrual cycles collides with the defiant, shameless, and bold new possibilities of menstrual resistance.
My nickname -
interes