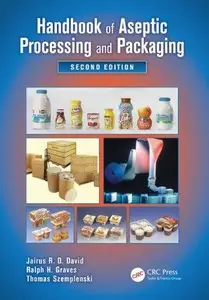 Handbook of Aseptic Processing and Packaging, Second Edition by Jairus R. D. David, Ralph H. Graves, Thomas Szemplenski
2012 | ISBN: 1439807191 | English | 400 pages | PDF | 26.10 MB
Since publication of the first edition of this book, Aseptic Processing and Packaging of Food, significant changes have taken place in several aseptic processing and packaging areas. These include changes in aseptic filling of nutritional beverages in plastic bottles; the popularity of value-added commodity products such as juice, concentrate, and puree; pouches and bag-in-box bulk packaging; and other novel package concepts possessing a range of consumer convenience and ergonomic features.
The newly titled Handbook of Aseptic Processing and Packaging, Second Edition explores the application of existing and new food processing methods and sensor technologies. It is an essential guide for those developing day-to-day procedures for a number of different aseptic processing and packaging applications.
New Topics in the Second Edition:
Current information on aseptic packaging materials and sterilants
Aseptic bulk packaging, with a historical perspective and an update on the current state of bulk packaging in container sizes ranging from several gallons to several millions of gallons
Aseptic processing operations, including the processing products as well as the operation of aseptic packaging systems
Failure mode effect analysis and spoilage troubleshooting, with examples of different failure modes and their effects on food safety
Aseptic processing of particulate foods, including the use of microwave for heating and technology available to monitor and develop processes for this category of foods
Contract manufacturers and their role in introducing innovative products to market
The contributors to this volume have more than 150 years of combined food industry experience, encompassing production, quality assurance, research and development, and sales in aseptic processing and packaging. Their insight provides a comprehensive update on this rapidly developing technology for the food processing industry.