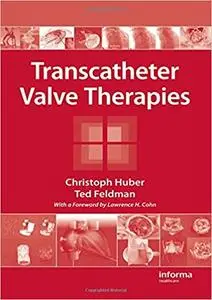 Christoph Huber, Ted Feldman, "Transcatheter Valve Therapies"
English | 2016 | ISBN: 1439810788 | PDF | pages: 272 | 58.6 mb
The landscape of cardiac surgery is changing, as is the field of interventional cardiology. The idea of accessing and replacing a failing valve through the patients vasculature has become the most rapidly expanding therapy of choice in cardiovascular disease. Transcatheter Valve Therapies chronicles the astonishing advances that have taken place in the field and prepares readers for the challenging future of cardiac valve therapies.
Designed to meet the growing needs of cardiologists, cardiac surgeons, anesthetists, and general practitioners, the book covers all aspects from logistic needs to clinical outcomes. It provides a comprehensive overview of transcatheter valve therapies and the necessary understanding for a successful clinical introduction at individual institutions.
Topics include:
- Epidemiologic considerations
- Aspects of balloon aortic valvuloplasty as a stand-alone procedure or as part of the transcatheter valve replacement
- The history of how transcatheter valve therapies were implemented into surgical practice
- New imaging modalities
- The particularities of transcatheter access
- Aortic root anatomy
- Emerging technologies and future design improvements
- Development steps of aortic devices and potential solutions for transcatheter tricuspid, mitral, and pulmonary valve replacement
- The rigorous testing requirements for endovascular medical devices
- Clinical results of aortic transcatheter valve therapies in easy accessible text and table formats
- The future of transcatheter valve therapies
All topics are discussed based on the author's own clinical and experimental experience in the field. This volume is essential for anyone involved in transcatheter valve implantation, clinicians wishing to become more involved in improving transcatheter valve therapies, and researchers engaged in building and creating new medical technologies to shape the cardiovascular landscape of the future.