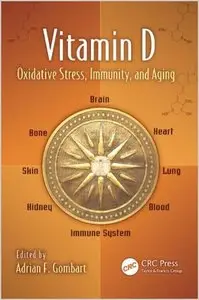 Vitamin D: Oxidative Stress, Immunity, and Aging (Oxidative Stress and Disease) by Adrian F. Gombart
English | 2012 | ISBN: 1439850208 | ISBN-13: 9781439850206 | 462 pages | PDF | 10,9 MB
Vitamin D deficiency is a worldwide public health problem in both developed and developing nations. This book focuses on the role of vitamin D in three areas: oxidation, immunity and aging. The text presents new information on the action of vitamin D in regulating numerous aspects of health, disease, and aging.
The author addresses the molecular and cellular mechanism responsible for the benefits of vitamin D and discusses the role of vitamin D in oxidative stress, including cancer, the nervous system, stress-mediated diseases, photoprotection, and energy metabolism, as well in the regulation of the aging process and its impact on diseases of aging, mortality, cardiovascular disease, and inflammation.
My nickname -
interes