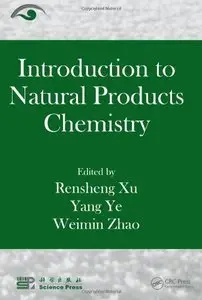 Rensheng Xu, Yang Ye, "Introduction to Natural Products Chemistry"
English | 2011 | ISBN-10: 1439860769 | 381 pages | PDF | 15,8 MB
Natural products chemistry—the chemistry of metabolite products of plants, animals and microorganisms—is involved in the investigation of biological phenomena ranging from drug mechanisms to gametophytes and receptors and drug metabolism in the human body to protein and enzyme chemistry.
Introduction to Natural Products Chemistry has collected the most important research results of natural product chemistry in China. It overviews the basic principles of isolation, structure, and characteristics of natural products and illustrates current research techniques of structure elucidation with real-life examples of wet chemistry and spectroscopic analyses (UV, IR, MS, and NMR, especially 2d-NMR, HMBC, and HMQC), bioactivity, biosynthesis, and chemical synthesis.
Specifically, this book covers:
Extraction and isolation of natural products
Chemistry of fungal products
Alkaloids, sesquiterpenoids, diterpenes, and saponins
Amino acids and peptides
Flavonoids, anthraquinones, coumarins, and lignans
Marine natural products
Structural modification of active principles from traditional Chinese medicine
Chemical synthesis of natural products
Although natural products chemistry has produced enormous results and made great contributions to human health, industry, and agriculture, only a fraction of natural resources have been rigorously studied. Chinese natural products are a gold mine for further exploration with modern technology and methods. This book represents the continuing collaboration between the fields of natural products chemistry, medicine, biology, and agriculture which will continue to discover and implement novel chemical products from natural sources.