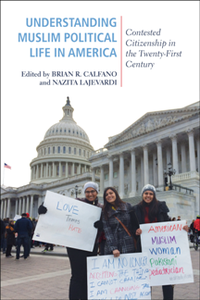 Understanding Muslim Political Life in America :
Contested Citizenship in the Twenty-First Century
by Brian R. Calfano and Nazita Lajevardi
English | 2019 | ISBN: 1439917361 | 249 Pages | PDF | 4.16 MB
"Muslim Americans are at a political crossroads," write editors Brian Calfano and Nazita Lajevardi. Whereas Muslims are now widely incorporated in American public life, there are increasing social and political pressures that disenfranchise them or prevent them from realizing the American Dream. Understanding Muslim Political Life in America brings clarity to the social, religious, and political dynamics that this diverse religious community faces.
In this timely volume, leading scholars cover a variety of topics assessing the Muslim American experience in the post-9/11 and pre-Trump era, including law enforcement; identity labels used in Muslim surveys; the role of gender relations; recognition; and how discrimination, tolerance, and politics impact American Muslims.
Understanding Muslim Political Life in America offers an update and reappraisal of what we know about Muslims in American political life. The editors and contributors also consider future directions and important methodological questions for research in Muslim American scholarship.
If you want to support my blog, then you can buy a premium account through any of my files (i.e. on the download page of my book). In this case, I get a percent of sale and can continue to delight you with new books!