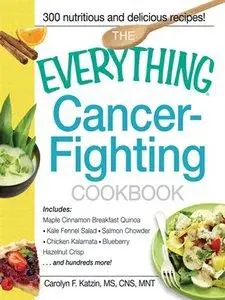 Carolyn F. Katzin, "The Everything Cancer-Fighting Cookbook"
English | ISBN: 1440507465 | 2011 | EPUB | 304 pages | 1 MB
Your complete guide to fighting cancer–with flavorful food! Whole foods. Antioxidants. Omega-3s. With The Everything Cancer-Fighting Cookbook, you'll find 300 delicious ways to incorporate these–and other–nutritional powerhouses into your diet to help combat cancer one recipe at a time. Medical Nutrition Therapist Carolyn F. Katzin guides you through the often-confusing world of what to eat before, during, and after cancer treatment. This guide features recipes packed with disease-fighting ingredients that are satisfying and sustaining, such as: Marinated Baby Artichokes; Winter Squash and Red Pepper Soup; Fruited Fall Quinoa; Cumin and Coriander Crusted Mahi-Mahi; Whole-Wheat Blueberry Muffins; and more. Each recipe includes a full nutritional analysis so you can easily make the healthiest choices without sacrificing flavor or flexibility. Whether preparing meals for relatives, friends, or yourself, you'll find everything you need to cook your way toward a cancer-free life.