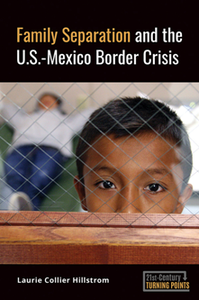 Family Separation and the U.S.-Mexico Border Crisis
by Laurie Collier Hillstrom
English | 2020 | ISBN: 1440876614 | 166 Pages | PDF | 3.25 MB
This volume provides an authoritative, evenhanded overview of the Trump administration's family separation and child detention policies at the U.S.-Mexico border—and the impact of those policies and actions on children, their parents, border security, and U.S. politics.
The 21st Century Turning Points series is a one-stop resource for understanding the people and events changing America today. Each volume provides readers with a clear, authoritative, and unbiased understanding of a single issue or event that is driving national debate about our nation's leaders, institutions, values, and priorities.
This particular volume is devoted to the issue of child migrant detention on the U.S.-Mexico border. It provides background information on the political, social, and economic forces driving undocumented immigration into America; explains the policies and records of both the Obama and Trump administrations on immigration, deportation, and border security; summarizes current laws and regulations governing U.S. border and immigration policies; recounts President Trump's rhetoric and record on both legal and 'illegal' immigration, including his promise to build a 'Border Wall' with funds from Mexico; surveys living conditions in the border detention centers operated by U.S. authorities; and discusses the impact of detention and family separation on children taken into custody.
- Entries devoted to specific events and milestones
- Biographical profiles of important activists and figures
- Essays that explore the lasting impact of child detention on migrant children, their families, immigration trends, and American politics and society
- Annotated bibliography of sources for further study
If you want to support my blog, then you can buy a premium account through any of my files (i.e. on the download page of my book). In this case, I get a percent of sale and can continue to delight you with new books!