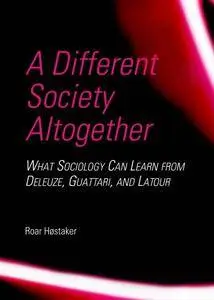 Roar Hostaker, "A Different Society Altogether: What Sociology Can Learn from Deleuze, Guattari, and Latour"
English | ISBN: 1443854182 | 2014 | 246 pages | PDF | 1 MB
What is a society? Within sociology and political science, theoretical debates are typically concerned with how societies can be studied in the best possible way. Despite the importance of these epistemological questions, it is timely to ask what kinds of entities compose society, what the relationship between them might be and whether humans may be said to live in 'societies' at all. How do we conceive of a sociological theory that takes these fundamental- and more ontological-problems seriously? This book suggests some solutions based on the anthropology of science of Bruno Latour and the philosophy of Gilles Deleuze and Felix Guattari. The central argument is that these thinkers provide perspectives which can both reinvigorate the theoretical debates within sociology and provide better analytical tools for social research. Although sociology does not adhere to the letter of Durkheim's dictum that society should be studied as an object, or of Weber's theory that only meaningful relations are of interest, it still owes these two forefathers a great deal. Their intellectual influence has made it notoriously difficult to reconceptualize social thought from within the discipline itself. As a result, sociology has become entrenched in an unwarranted anthropocentrism, an inability to integrate language and technical objects as part of its analytical foundation, and a marked subordination to 'state thinking'. By introducing concepts like the collective of humans and non-humans, event, plane and assemblage, this book indicates new avenues for empirical research which will make a break away from the established patterns possible. Unfortunately, many previous applications of Deleuze and Guattari's thinking within the social sciences leave much to be desired. A recurrent phenomenon has been the rather imprecise treatment of their concepts. Furthermore, analyses of their concepts are not much more than meta-commentaries on meta-commentaries. To redress these shortcomings, this book presents a more thorough reception of this body of philosophy within the framework of sociological theory.