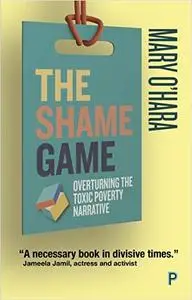 The Shame Game: Overturning the Toxic Poverty Narrative by Mary O'Hara
English | February 27, 2020 | ISBN: 1447349261 | PDF | 232 pages | 4.7 MB
What does it mean to be poor? For decades the dominant narrative in the United States and United Kingdom has been that it is caused by personal flaws, or bad life decisions. People living in poverty have been depicted as lazy, dependent, and irresponsible so regularly and for so long that it has powerfully affected how people see, think about, and treat their fellow citizens who are financially vulnerable.
Drawing on a two-year storytelling project and her own experience of childhood poverty, this book by journalist and author Mary O'Hara argues for a radical overhaul of this fundamentally pernicious portrayal. We can't begin to address poverty until we actually see it clearly. To start the process of doing that, O'Hara turns not to pundits or social scientists, but to the real experts on poverty: the people who live it.