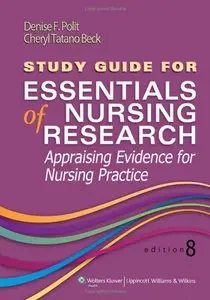 Study Guide for Essentials of Nursing Research, Eighth edition by Denise F. Polit PhD FAAN and Cheryl Tatano Beck DNSc CNM FAAN
English | ISBN: 145117683X | 2013 | PDF | 248 pages | 141 MB
Study Guide for Essentials of Nursing Research, 8e augments the text and provides students with exercises for each text chapter that furthers their understanding and application of the text content. Critiquing opportunities abound in the Study Guide which includes eight full-length studies in their entirety representing a range of research types.
Application Exercises are based on these studies and guide students in reading, understanding, and critiquing the studies. In addition, there are activities to support the learning of fundamental research terms and principles including fill in the blanks, matching exercises, and Study questions.