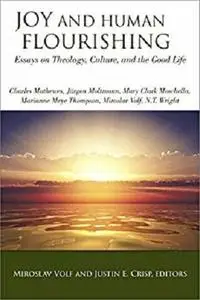 Joy and Human Flourishing: Essays on Theology, Culture, and the Good Life by Miroslav Volf, Justin E. Crisp
English | November 1, 2015 | ISBN: 1451482078 | 175 pages | AZW3 | 0.33 MB
Joy is crucial to human life and central to God's relationship to the world, yet it is remarkably absent from contemporary theology and, increasingly, from our own lives! This collection remedies this situation by considering the import of joy on human flourishing. These essays—written by experts in systematic and pastoral theology, Christian ethics, and biblical studies—demonstrate the promise of joy to throw open new theological possibilities and cast fresh light on all dimensions of human life. With contributions from Jurgen Moltmann, N. T. Wright, Marianne Meye Thompson, Mary Clark Moschella, Charles Mathewes, and Miroslav Volf, this volume puts joy at the heart of Christian faith and life, exploring joy's biblical, dogmatic, ecclesiological, and ethical dimensions in concert with close attention to the shifting tides of culture. Convinced of the need to offer to the world a compelling Christian vision of the good life, the authors treat the connections between joy and themes of creation, theodicy, politics, suffering, pastoral practice, eschatology, and more, driven by the conviction that vital relationship with the living God is integral to our fullest flourishing as human creatures.