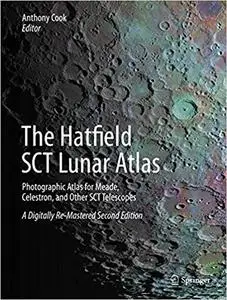 Anthony Cook, "The Hatfield SCT Lunar Atlas: Photographic Atlas for Meade, Celestron, and Other SCT Telescopes: A Digitally Re-Mastered Ed 2"
English | ISBN: 1461486386 | 2014 | 219 pages | EPUB, PDF | 45 MB + 40 MB
In 2004, it became obvious that Henry Hatfield's original atlas wasn't suitable for all current commercially-made amateur telescopes. Newtonian telescopes and astronomical refractors – for many years the only choice for amateurs – invert the observed image. The standard Hatfield Atlas therefore follows the IAU (International Astronomical Union) convention of having maps (and photographs) with South at the top and West on the left: an inverted image.
However, the current ranges of Schmidt-Cassegrain and Maksutov telescopes – that's most of those manufactured by Meade, Celestron, and many others – don't invert the observed image but instead reverse it left-for-right. That's with North at the top and East on the left. Because of the way the human visual system works, it is almost impossible to mentally 'mirror-image' a map to compare it with the view through the eyepiece , so even turning an IAU-standard atlas upside-down doesn't help!
This new SCT version of the Atlas solves this problem for observers. Identification of lunar features is made quick and easy.
The new, digitally re-mastered second edition vastly improves the clarity and definition of the original photographs – significantly beyond the resolution limits of the photographic grains present in earlier atlas versions – whilst preserving the layout and style of the original publications. This has been achieved by merging computer-visualized Earth-based views of the lunar surface, derived from NASA's Lunar Reconnaissance Orbiter data, with scanned copies of Commander Hatfield's photographic plates, using the author's own software.
The result is a The Hatfield SCT Lunar Atlas for 21st century amateur telescopes up to and beyond 12-inch aperture.
It contains all the features that made the original so widely used: a combination of an index of all International Astronomical Union named primary lunar features, and twelve chart areas help to locate any named lunar features of interest that can each be examined under typically five different states of illumination. Close ups of interesting features are also included. The new Atlas is supplemented by an introduction to its use, a short description of the digital re-mastering technique, and a completely new section describing lunar observing techniques. At the end of the atlas there is an index of all named features and crater diameters, along with a summary table of the dates and times that the original Hatfield images represent.