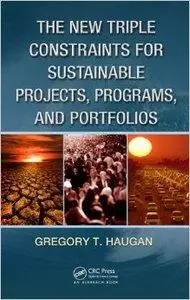 Gregory T. Haugan, "The New Triple Constraints for Sustainable Projects, Programs, and Portfolios"
English | ISBN: 1466505184 | 2012 | 420 pages | PDF | 5 MB
The ongoing changes in population, climate, and the availability of energy have resulted in unprecedented threats and opportunities that all project and program managers, portfolio managers, and public planners need to be aware of. The New Triple Constraints for Sustainable Projects, Programs, and Portfolios offers a clear look at how these constraints will impact project undertakings and overlay the current classic constraints of cost, schedule, and performance.
The book provides current facts and information on population, climate change, and energy issues—identifying trends and outlining opportunities in the form of a set of overlays (summary conclusions). The overlays are indexed to current changes that collectively represent a major turning point in the way we use resources and our growing need to seek sustainability. Identifying how changes in the new triple constraints will impact long-range planning, the book:
Explains the rationale behind population forecasts and the likely impact on global supply and demand
Highlights emerging trends in global temperatures and sea level rise, and the impacts on ecology, biology, and the marine environment without political spin
Includes SWOT analyses of fossil fuels, nuclear fuel, and renewable fuels to assist in planning programs that depends upon these energy sources
Provides expert estimates and forecasts of energy availability and alternatives
Discusses the risks of various energy options
Contains supporting Appendices and a comprehensive Bibliography
Most program life cycles last five to ten years, and infrastructure programs last 40 to 50 years; the text provides a rational basis for approaching the new problems that all program and portfolio managers will soon have to deal with. It will help you identify and recognize these current and projected circumstances and risks so you will understand and be prepared to make the most of the major changes impacting the upcoming decision environment.