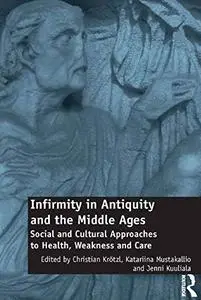 Infirmity in Antiquity and the Middle Ages: Social and Cultural Approaches to Health, Weakness and Care by Christian Krötzl, Katariina Mustakallio, Jenni Kuuliala
2016 | ISBN: 1472438345 | English | 334 pages | PDF | 3 MB
This volume discusses infirmitas ('infirmity' or 'weakness') in ancient and medieval societies. It concentrates on the cultural, social and domestic aspects of physical and mental illness, impairment and health, and also examines frailty as a more abstract, cultural construct. It seeks to widen our understanding of how physical and mental well-being and weakness were understood and constructed in the longue durée from antiquity to the Middle Ages. The chapters are written by experts from a variety of disciplines, including archaeology, art history and philology, and pay particular attention to the differences of experience due to gender, age and social status. The book opens with chapters on the more theoretical aspects of pre-modern infirmity and disability, moving on to discuss different types of mental and cultural infirmities, including those with positive connotations, such as medieval stigmata. The last section of the book discusses infirmity in everyday life from the perspective of healing, medicine and care.