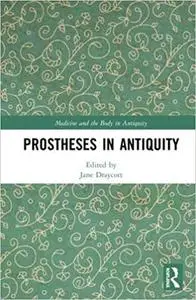 Jane Draycott, "Prostheses in Antiquity "
English | ISBN: 1472488091 | 2018 | 232 pages | PDF | 13 MB
Today, a prosthesis is an artificial device that replaces a missing body part, generally designed and assembled according to the individual's appearance and functional needs with a view to being both as unobtrusive and as useful as possible. In classical antiquity, however, this was not necessarily the case. The ancient literary and documentary evidence for prostheses and prosthesis use is contradictory, and the bioarchaeological and archaeological evidence is enigmatic, but discretion and utility were not necessarily priorities. So, when, howand why did individuals utilise them? This volume, the first to explore prostheses and prosthesis use in classical antiquity, seeks to answer these questions, and will be of interest to academics and students with specialistinterests in classical archaeology, ancient history and history, especially those engaged in studies of healing, medical and surgical practices, or impairment and disability in past societies.