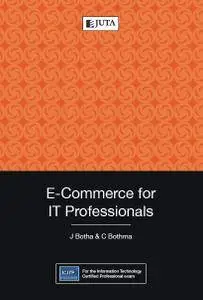 E-Commerce for IT Professionals
Juta | English | 2017 | ISBN-10: 1485124662 | 264 pages | PDF | 6.29 mb
By Botha J ; Bothma C
For e-commerce to work and be implemented successfully, specific skills and knowledge are required – in the fields of information and communications technology (ICT) and business and marketing management in particular. Research in South Africa indicates a growing need for training in managing e-commerce.
This book attempts to train people in understanding the ICT principles that underlie e-commerce and e-commerce management against the background of this need, in a disciplined and dedicated way that aims to satisfy specific business needs and meet objectives.
Contents Include:
Introduction to e-commerce
Creating web pages
The online customer
Establishing an e-commerce store
Marketing the e-commerce store
E-tailing
Managing e-CRM
Business-to-business e-commerce
E-commerce planning, strategy and management
Measuring e-commerce store success
Of Interest and Benefit to:
For the Information Technology Certified Professional exam
Key Benefits:
ICITP® (the Institute of Chartered IT Professionals) is a recognised professional body for the Information Technology sector worldwide, dedicated to regulating the IT profession, making sure that competency, recognition and professionalism are promoted effectively at all levels. Certified and Chartered IT Professionals play an important role in IT businesses as they help to achieve the overall objective of a business by working as business partners rather than just as employees.
The objective of ICITP® is to create a structured and yet vibrant environment for its members in which they can become the next generation of high-impact entrepreneurs, turning their IT- based skills into business ideas and into start-up and successful ventures.
ICITP® seeks to advance the employability of youth and graduates, entrepreneurship and social inclusion by addressing the challenges around integrating graduates and young people into the employment market, highlighting innovative approaches and uses of ICTs, and providing pathways to boost self-development, knowledge and skills.
ICITP® keeps its qualifications, professional experience requirements and CPD programmes up to date. This ensures that its members are the first choice for employers looking to recruit qualified IT practitioners and trained IT business leaders. ICITP® is committed to upholding the highest ethical and professional standards, and to maintaining public confidence in Information Technology.
Feel Free to contact me for book requests, informations or feedbacks.