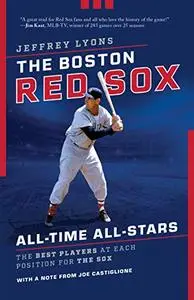 The Boston Red Sox All-Time All-Stars: The Best Players at Each Position for the Sox by Jeffrey Lyons
2021 | ISBN: 1493059165 | English | 240 pages | EPUB | 4 MB
Let's say you're the manager of one of the oldest and most beloved franchises in Major League baseball, with every past and current player available in the dugout. Game time is approaching and the ump needs your line-up card. Who's your starting pitcher? Three-hundred-game-winner Lefty Grove, lights-out Pedro Martinez, fireballer Roger Clemens, or the Sox's first Cy Young winner Jim Lonborg? Is Carlton Fisk behind the plate or Jason Varitek? Who'll bat clean-up, Ted Williams or David Ortiz? Combining statistical analysis, common sense, and a host of intangibles, Jeffrey Lyons constructs an all-time All-Star Red Sox line-up for the ages. Agree with his choices or not, you'll learn all there is to know about the men who played for and managed the BoSox.