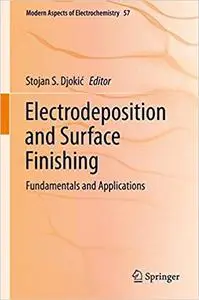 Stojan S. Djokić, "Electrodeposition and Surface Finishing: Fundamentals and Applications "
English | ISBN: 1493902881 | 2014 | 363 pages | PDF | 14 MB
This volume of Modern Aspects of Electrochemistry has contributions from significant individuals in electrochemistry. This 7 chapter book discusses electrodeposition and the characterization of alloys and composite materials, the mechanistic aspects of lead electrodeposition, electrophoretic deposition of ceramic materials onto metal surfaces and the fundamentals of metal oxides for energy conversion and storage technologies. This volume also has a chapter devoted to the anodization of aluminum, electrochemical aspects of chemical and mechanical polishing, and surface treatments prior to metallization of semiconductors, ceramics, and polymers. This volume of Modern Aspects of Electrochemistry is ideal for scientists, researchers, engineers, and students interested in the latest findings in the field of electrodeposition and surface finishing.