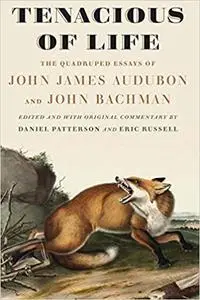 John James Audubon, "Tenacious of Life: The Quadruped Essays of John James Audubon and John Bachman"
English | ISBN: 1496213343 | 2021 | 424 pages | PDF | 22 MB
Daniel Patterson and Eric Russell present a groundbreaking case for considering John James Audubon's and John Bachman's quadruped essays as worthy of literary analysis and redefine the role of Bachman, the perpetually overlooked coauthor of the essays. After completing The Birds of America (1826–38), Audubon began developing his work on the mammals. The Viviparous Quadrupeds of North America volumes show an antebellum view of nature as fundamentally dynamic and simultaneously grotesque and awe-inspiring. The quadruped essays are rich with good stories about these mammals and the humans who observe, pursue, and admire them.
For help with the science and the essays, Audubon enlisted the Reverend John Bachman of Charleston, South Carolina. While he has been acknowledged as coauthor of the essays, Bachman has received little attention as an American nature writer. While almost all works that describe the history of American nature writing include Audubon, Bachman shows up only in a subordinate clause or two.
Read more