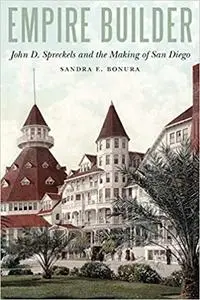 Dr. Sandra Bonura, Uwe Spiekermann, "Empire Builder: John D. Spreckels and the Making of San Diego"
English | 2020 | ISBN: 1496222911 | 440 pages | EPUB | 5.5 MB
2021 San Diego Book Award
Empire Builder is the previously untold story of a pioneer who almost single-handedly transformed the bankrupt village of San Diego into a thriving city. When he first dropped anchor in San Diego Bay on a warm June day in 1887, John Diedrich Spreckels set into motion a series of events that later defined the city. Within just a few years, this son of the German immigrant Claus Spreckels, known as the "Sugar King," owned and controlled the majority of San Diego's industry by demanding advanced techniques of building construction, water supply management, and energy production, as well as improvements in transportation—particularly by ship, rail, electric streetcar, and automobile.
After successfully building empires in sugar, shipping, and transportation and building development up and down the coast of California and across the Pacific, Spreckels rubbed shoulders with world leaders, bailed out royalty, and even successfully sued the U.S. government twice, all while contributing to numerous educational, charitable, and cultural institutions in San Diego and San Francisco.
Despite the fact that Spreckels created and owned much of San Diego's early twentieth-century infrastructure, his name is unknown to many contemporary San Diegans. Nobody, especially not Spreckels himself, could have foreseen that his empire would be all but forgotten in so short a time. Sandra E. Bonura strives to correct this oversight by providing a behind-the-scenes look into the Spreckels family and its role in business and into the man himself. This deeply researched biography, which includes newly discovered family documents and photos, paints a realistic portrait of cultural, economic, and political aspects of late nineteenth- and early twentieth-century California.