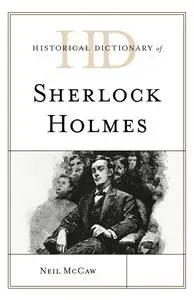 Historical Dictionary of Sherlock Holmes (Historical Dictionaries of Literature and the Arts) by Neil McCaw
English | November 15th, 2019 | ISBN: 1538123150 | 451 pages | PDF | 20.87 MB
Historical Dictionary of Sherlock Holmes contains a variety of information about Arthur Conan Doyle's Sherlock Holmes stories, as both narratives and also cultural phenomena. The volume will help readers look deeper into those stories and the meanings of the various reference points within them, as well as achieving a deeper understanding of the range of contexts of Holmes, Conan Doyle, and detective fiction as a genre. This book examines the broad global Sherlock Holmes phenomenon related to the ways in which the stories have been adapted into a range of other media, as well as the cultural status of Holmes all over the world.