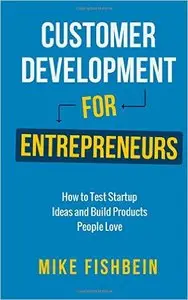 "Customer Development for Entrepreneurs: How to Test Startup Ideas and Build Products People Love" by Mike Fishbein
2014 | EPUB | 96 pages | ISBN: 1499243642 | English | 0.1 MB
Customer development is a process for discovering and validating market demand for an idea and determining the right product features to meet customer needs through interviews and structured experiments. Customer development is used to help build products that customers want and avoid spending time and money on products customers don't want. It can be used to identify problems and new startup ideas, to test ideas, and to optimize ideas and existing products. Customer development helps us learn about our potential customers so we can build products they will actually use.
Validate Startup Ideas Efficiently and Effectively
Customer development and Lean Startup methodology have become quite popular with entrepreneurs. This book was written to be a supplement to books like The Lean Startup and The Startup Owner's Manual. Without rehashing too much of the basics, this is a tactical guide to practicing customer development. Many entrepreneurs and corporate innovation teams know they need to be practicing customer development, but don't know how to do it in a way that will help them build awesome products.
Topics include:
How to Get Startup Ideas Through Customer Development
How to Test a Startup Idea's Viability Before Building a Product
How to Find Customers to Interview
How to Ask for and Get Customer Interviews
How to Gain Customer Insights to Build Products People Want
The Best and Worst Customer Development Questions to Ask
How to Optimize Ideas and Existing Products
Common Mistakes to Avoid