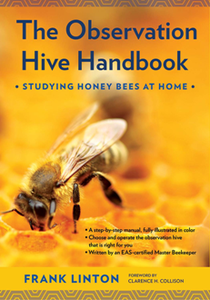 The Observation Hive Handbook : Studying Honey Bees at Home
by Frank Linton
English | 2017 | ISBN: 1501707264 | 110 Pages | PDF | 65 MB
This book will guide you in selecting an observation hive and choosing a site for it, modifying the hive and the site as needed, installing the hive, working with the hive, and maintaining the hive. It will prepare you to take a temporary portable observation hive to a market, fair, or school. Most important, it describes and illustrates the many ways you can use your observation hive to learn more about honey bees and how to care for them.
"Linton, a certified master beekeeper, discusses the various options for constructing an observation hive…. This book is written primarily for experienced beekeepers, offering sound advice for those wishing to set up an observation hive…. Very well-written." - Choice
"I wish I would have had this book 30 years ago when I started my first observation hive. It would have saved me a lot of time and energy and money, and if you don't already have one (and why not?), it will do the same for you…. If you have plans for, or already have one of these [hives], you need this book. It's worth every penny." - Bee Culture