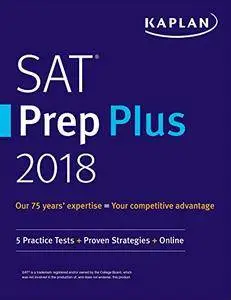 SAT Prep Plus 2018: 5 Practice Tests + Proven Strategies + Online (Kaplan Test Prep) by Kaplan Test Prep
English | 6 Jun. 2017 | ISBN: 1506221300 | ASIN: B01MFFO5BW | 960 Pages | AZW3 | 19.52 MB
Kaplan's SAT Prep Plus 2018 teaches you the ins and outs of the SAT and offers extra study plans, online practice and video lessons to make sure you're ready for Test Day. With clear explanations, detailed subject review and more than 1,400 practice questions, SAT Prep Plus 2018 helps you master Kaplan's proven strategies and adopt the confident mindset that will help you ace the test and give your college applications a boost!
Get everything in the SAT Prep 2018 package, plus three more practice tests, 650 additional practice questions, more than a dozen timed quizzes, and 15 video lessons from our all-star team of SAT masters.
With SAT Prep Plus 2018 you can study on-the-go. Log in from anywhere to watch video lessons, complete quizzes and take practice tests that are optimized for your mobile device.
The Best Practice
More than 1,400 practice questions with detailed explanations, including brand new questions for this edition.
Five full-length Kaplan practice tests: two in the book and three online.
Expert scoring, analysis, and explanations for two official College Board SAT Practice Tests.
Detailed chapters teach you The Kaplan Method strategies for each test section, including special techniques for the optional essay.
In-depth sections on each question type and math skill, with practice questions for each.
Kaplan's SmartPoints system helps you identify how many points you're likely to earn when you master each topic.
Questions have been reviewed, revised and updated for 2017-2018 by Kaplan's all-star expert faculty.
Expert Guidance
We know the test: Our Learning Engineers have put tens of thousands of hours into studying the SAT – using real data to design the most effective strategies and study plans.
Kaplan's expert psychometricians make sure our practice questions and study materials are true to the test.
We invented test prep—Kaplan (
www.kaptest.com
) has been helping students for almost 80 years, and more than 95% of our students get into their top-choice schools. Our proven strategies have helped legions of students achieve their dreams.
Want even more practice, extra tips, and Kaplan lessons on DVD? Try our biggest book available: SAT: Total Prep 2018.
The previous edition of this book was titled SAT Premier 2017.