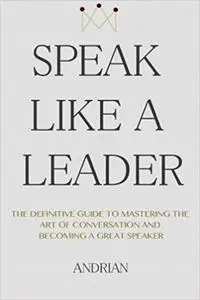 Andrian, "Speak Like a Leader: The Definitve Guide to Mastering the Art of Conversation and Becoming a Great Speaker"
English | ISBN: 1508807981 | 2015 | 162 pages | EPUB, MOBI | 1348 KB + 2 MB
If you want to become a great speaker you need to believe in secrets. The great secret of our time is that you can actually reach a very competent level at any skill just by harnessing the power of your most important asset – your brain. In "Speak Like a Leader" self-growth pioneer and social chameleon Andrian focuses on fundamental principles that define our speaking ability and presents the most impactful but extremely attainable ways to dramatically improve this inherited but quite neglected skill. Andrian begins with the contrarian premise that we live in an age of social and communicational stagnation, even though our forms of communication have evolved dramatically. The current oversimplification of our everyday processes and a lack of ambition when it comes to pursuing more deep and meaningful conversations with others have led us to dismiss the importance of the most fundamental skill that every leader must master: learning to speak in a simple yet influential way. Leaders know how to speak well because they speak in a way that immediately gets people interested in what they have to say; in a way that evokes the right emotions and leaves people waiting, agonizingly eager, for the next words to come out of their mouth; in a way that makes them more relatable and empathic; in a way that makes people believe that what they are saying is of immense value to them. Read more at:
http://speaklikealeaderbook
The next leaders won't seek value from others. The next leaders will be the ones who will first find value within themselves, and then offer it to others. "Speak Like A Leader" teaches you exactly this. Learning to speak well is a skill that anyone can master, and is the most powerful way to communicate your message, discover your inner leader and make an impact in today's loud world.