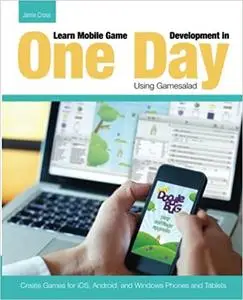 Jamie Cross, "Learn Mobile Game Development in One Day Using Gamesalad: Create Games for iOS, Android and Windows Phones and Tablets"
English | ISBN: 1511914203 | 2015 | 244 pages | AZW3, EPUB | 9 MB + 6 MB
Learn Mobile Game Development in One Day Using Gamesalad is for anyone who wants to learn how to create their own video games for desktop and mobile devices. While this is an introductory book that assumes you have no previous game development experience, you'll find that once you have completed all of the chapters and exercises, you'll be able to create your own amazing video games from scratch.
The book is meant to be used as a learning tool, it's filled with over 35 hands-on exercises and four chapters dedicated to learning how to make four different game types. Once you have completed the book you will already have four mobile ready games created and ready to be customized and published to the Apple App Store!
In This Book You Will Learn:
What game development is
What some of the requirements for a successful game are
What Gamesalad is
How to create game scenes and levels
To create images and animations
How to design a game and its rules
How to incorporate music and sound effects
To create amazing particle effects
How to add physical properties to the game's actors
To create a clean, informative graphical user interface
How to publish games to the Apple App Store
Much More!
Gamesalad Creator is a modern 2D game development kit (GDK). Over 750,000 developers in 189 countries around the world use it and it has been used to make 70 of the top 100 games in the U.S. Apple App Store.
One of the highlights of Gamesalad is that you DO NOT need to learn how to write traditional computer programming code to make your games. Gamesalad offers a simple, yet full-featured, drag and drop interface that lets you build commercial-quality games much quicker than learning traditional programming. Once you are familiar with Gamesalad, you will be able to prototype a game in a few days and complete the entire project in as little as a few weeks instead of the typical months or years it could take to develop a game with another GDK.