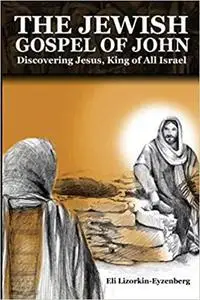 The Jewish Gospel of John: Discovering Jesus, King of All Israel by Eli Lizorkin-Eyzenberg
English | ISBN: 1514392836 | 276 pages | EPUB | August 2, 2015 | 4.52 Mb
The Jewish Gospel of John is not, by any standard, another book on Jesus of Nazareth written from a Jewish perspective. It is an invitation to the reader to put aside their traditional understanding of the Gospel of John and to replace it with another one more faithful to the original text perspective. The Jesus that will emerge will provoke to rethink most of what you knew about this gospel. The book is a well-rounded verse-by-verse illustrated rethinking of the fourth gospel. Here is the catch: instead of reading it, as if it was written for 21 century Gentile Christians, the book interprets it as if it was written for the first-century peoples of ancient Israel. The book proves what Krister Stendahl stated long time ago: "Our vision is often more abstracted by what we think we know than by our lack of knowledge." Other than challenging the long-held interpretations of well-known stories, the author with the skill of an experienced tour guide, takes us to a seat within those who most probably heard this gospel read in the late first century. Such exploration of variety of important contexts allows us to recover for our generation the true riches of this marvelous Judean gospel."A genuine apologetic is one that is true to the texts and the history, akin to the speeches of a defense attorney with integrity. Using the best of contemporary scholarship in first-century Judaic history and contributing much of his own, Dr. Eli Lizorkin-Eyzenberg has demonstrated that the Gospel of John is not an anti-Jewish, but a thoroughly Jewish book."Daniel Boyarin, Hermann P. and Sophia Taubman Professor of Talmudic Culture, University of California, Berkeley"Dr. Lizorkin-Eyzenberg places the text of John's Gospel in its authentic context by examining the Dead Sea Scrolls, Philo, rabbinic literature, and suggesting innovative explanations for the nomenclature, 'the Jews.' His fresh analysis is sure to stir meaningful debate. His creative approach will make an enduring contribution to the discipline of New Testament studies." Brad Young, Professor of Biblical Literature in Judeao-Christian Studies, Oral Roberts University"For some time, research on the Gospels has suffered from stagnation, and there is a feeling that there is not much new that one can say. In light of this, Dr. Eli Lizorkin-Eyzenberg's new commentary on the Gospel of John, with its original outlook on the identity of the original audience and the issues at stake, is extremely refreshing." Ishay Rosen-Zvi, Head of the Talmud and Late Antiquity Department, Tel-Aviv University.